Expectations of the Muslims and other minority communities from Narendra Modi-led government
After registering a thumping victory in the Lok Sabha polls, the BJP-led NDA is all set to form the next government on My 26. Now the time has come to fulfil the various poll promises made by Narendra Modi and his team. During the election campaign the saffron party tried its best to win the hearts of the minority community especially the Muslim voters, who had some reservations against the BJP leadership due to its pro-Hindutva image.
The PM-elect Narendra Modi too tried to convince the Muslim voters on various platforms, be it election rallies, face to face meetings, societal gatherings, media interviews. Now when Modi is going to form the next government in the country, what are those things that the minority communities, be it Muslims, Christians are expecting from him?
Veteran journalist Qamar Agha says
, "BJP has promised a lot in its manifesto. Modi has said he will work for everyone, all across India for development of the nation. It is a welcome sign. When the nation will be developed, the minorities will be developed also. Minorities would be very happy if Modi government provides electricity, road, infrastructure and employment to them. Minority community is hoping that Modi will follow the course of Atal Bihari Vajpayee, which would be too good for the nation. No minority community wants riots, disturbance; majority community also does not such things to happen. Only a few small groups trigger communalism and disturb peaceful atmosphere, which is not good for nation."
Imran Ali, Advocate, Supreme Court says, "Not only Muslims, but the other minority communities like Buddhists, Christians, Jains expect security of life and livelihood from the new government. Minority rights to be established, no partiality and communal bias should be prompted. I think the Modi government will see everyone with the same eye and work for the economic and social development of the nation. As far as I am concerned, minority community don't fear or don't think that Modi government will go against them. Although they have mentioned in their manifesto that article 370 will go out of the constitution and Ram Mandir issue will be dealt with according to the constitution, but that does not mean that there would be any riots. We expect a development focused government from Modi. Neither you nor I and nobody can predict what may happen but we all expect good governance and development from Modi government."
Shaista Amber, President, All India Muslim Women Personal Law Board said, "Modi Ji is the PM of 125 crore Indians and we hope a lot from him. His campaign line was 'Ab ki baar Modi sarkar' and people have elected him expecting a great change in India. No Muslim has voted either in the influence of any Maulana. They have voted to Modi from their hearts. Although some Muslims have raised voice against him, but there are many Hindus and political rivals also who have done so. It is not a big deal. We want and expect change from Modi government. Not as a Muslim woman, as an Indian woman I expect more women members in Modi government and hope Modi will work for women empowerment, their rights, respect and protection."
Yusuf Qureshi, Member, Muslim Personal Law Board, "People of India believe in democracy. In a democracy who ever may be elected, people will respect and accept. Modi has come into power after getting elected by Indian citizens. He is the leader of India not of any community. He must do his duty towards the nation and work for all. We hope Modi will do his duty properly. With respect to 2002 riots, the then PM Atal Bihari Vajpayee had told Modi to carry on his duty towards nation in an efficient way. We want him neither to forget his national duty, nor repeat any mistake further."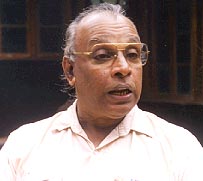 George Menachery, Writer and Historian professor said, "We expect protection and security from the government and Modi has promised in his election campaign to work for minority and the nation. We hope good governance and development from the new government. If Modi deviates along the (Sangh) Parivar line, it will be very bad. As far I am concerned he will not do it again. The nation and the world opinion has kept a close eye and he will not do such things. The minority community has to be very watchful and alert. If any wrong things are about to happen, they should bring it out to media and public. Yes, some people I am not mentioning the name are saying that minorities (Muslims) will be sent to Bangladesh and Pakistan, but I think nothing will happen like this in Modi's government following his campaign promises."